​Cuisine of Istanbul Armenians at YESAM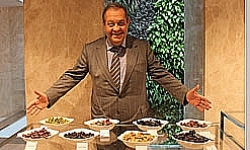 ​Cuisine of Istanbul Armenians at YESAM
Culinary Arts Center once again hosted Nedim Atilla, a journalist and food culture researcher for a seminar on the Cuisine of Istanbul Armenians. During Mr. Atilla's presentation, he assessed the roots of Armenian food culture. "Armenians are one of Anatolia's most important ethnic populations. The traces of Armenian food culture can be seen all over Anatolia, however in Istanbul, the cuisine takes on a different, more refined and distinguished aspect."

Nedim Atilla continued his presentation with a few short movie inserts. The first one was of Mr. Garo Halepli, who is a fifth generation silversmith at the Grand Bazaar. Mr. Halepli explained some incidents from his childhood that revolved around food. Later on Mr. Atilla showed an interview he did for Ege TV. His guest was Mr. Sabri Koz, who is Turkey's most avid researcher of Armenian food culture. The seminar continued with a reading from the book Sofranız Şen Olsun (May Your Table Be Joyful) by Takuhi Tovmasyan and also from Mükemmel Yemek Kitabı (A Perfect Cookery Book), published in 1926 and written in the Armenian alphabet.

After the short movies, Mr. Atilla's presentation can be summarized as: "In today's Armenia, the cuisine is mostly meat based, however in Istanbul the Armenian cuisine is popular for its mezes (small dishes accompanying raki). Based on research done on Armenian cuisine, its history goes back as far as the Urartian period. In the antique city of Erebuni, in Yerevan, the archeologists have found traces of barley, grape, hemp, lentils, peas, sesame and wheat.

Throughout history the Armenians have been ruled by various empires, therefore their cuisine has been affected by different cultures such as Byzantine, Ottoman, Russian, and Middle Eastern. Istanbul presents a much different cuisine with many famous stuffed dishes like mussels, mackerel and spleen. A culinary researcher friend travelling from Northern Europe was stunned after seeing the preparation that goes into making a stuffed spleen. As seen from this example, food is Anatolia's most exhausting delight. Highly labour-intensive but a delight to eat, Armenian cuisine is one of the most delicious ethnic cuisines of Turkey. Combined with the geography and cultural heritage of Istanbul, Armenian cuisine has really flourished over time.

After the seminar guests attended a dinner of Armenian delicacies, served by Nar Lokanta chefs. Bartev & Arakast Orchestra accompanied the diner with beautiful Armenian melodies.




Bu haber kaynağından gelmektedir.
Haber metninde yer alan görüşler haber kaynağı () ve yazarına ait olup,
Bolsohays.com sitesi haber hakkında herhangi bir görüş üstlenmemektedir.