Intensive Summer Course Of Armenian Language and Culture August 2017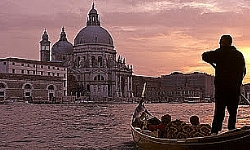 Intensive Summer Course Of Armenian Language and Culture August 2017
The intensive summer course of Armenian Language and Culture offered by the Association "Padus-Araxes", in collaboration with the "Studium Marcianum" of Venice, will take place from August 1st to August 18th. Examinations on August 19th. ARRIVALS: on July 30th and 31st. DEPARTURES: on August 20th and 21st

To apply, please fill in the application form you find in our website: www.padus-araxes.com/SummerCourse/ApplicationForm. Applications must be submitted PERSONALLY and IN WRITTEN FORM giving a PHONE number and also an e-mail address. For acceptance, IT IS NECESSARY to be at least of eighteen years of age.

The course has four basic levels, from the absolute beginners to the proficient speakers. Lessons take place from Monday to Friday five hours a day in the morning. ATTENDANCE of lessons IS COMPULSORY. Various cultural and leisure activities and excursions will be offered parallel to the language course: tour of the Mekhitarist Monastery of St. Lazarus and visit to the Armenian vestiges in Venice; lectures on issues concerning Armenian History, Linguistics and Culture (the programme will be available by the end of January). Also free COURSES OF ARMENIAN DANCE and DOUDOUK will be offered to those who wish to join them.

The TUITION FEE is 790 € or its equivalent in other currency. Of this amount, 500 € must be sent as a REGISTRATION FEE upon acceptance, BY THE DEADLINE OF MARCH 31st. After this date, till the final deadline of June 30th, the registration fee will be € 550. The difference for the total amount will be settled ON THE ARRIVAL DAY in one of the main Western currencies. This payment in full on the arrival day is an ABSOLUTELY BASIC CONDITION FOR ACCESS TO THE LODGINGS. Money once paid WILL NOT BE REFUNDED for any reason. A 10% DISCOUNT is applied to those who have already attended the course, at least twice, with a good result, as well as to any close relatives (parents, brothers, husband/wife). International bank checks or money-orders must be MADE OUT ONLY to Associazione Padus-Araxes, and MAILED TO: Assoc. Padus-Araxes c/o Centro di Documentazione della Cultura Armena, Loggia del Temanza, Corte Zappa, Dorsoduro 1602, I-30123 Venezia (Italia). POSTAL CHECKS as well as PERSONAL CHECKS and CREDIT CARDS are NOT accepted. ALL CHECKS MUST have the cover of the bank and transferred to an associated Italian Bank. Those who wish to pay through a BANK TRANSFER will receive the Bank account to which to send their payment. ALL bank charges are at the expenses of the applicant.

A LODGING is offered to the participants in the HISTORIC CENTRE of VENICE. THE ACCOMODATION FEE for the whole period from 30th July through August 20th (inclusive) is: € 910 for a single room, € 790 for a double room, in both cases with bathroom facilities. Within this period ANY PER DIEM CALCULATION IS NOT PERMITTED for any reason. Those who would like to arrive earlier or leave later than the given dates have to look themselves for their own solution for a room on those days. There will be provided a shared kitchen, washing machines, Wi-Fi connection, bed linen and towels. Participants will be offered dining facilities at affordable restaurants near to "Studium Marcianum" wherein the lessons will be held (we will give detailed information at the start of the course on restaurants, canteens and food stores).

For further INFORMATION, send an e-mail to <daniela@padus-araxes.com> and benedettacon@gmail.com. For urgent information you can call on Monday and Thursday morning from 10.30 to 13.00 a.m. at mobile phone +39.347.4562981 and at 8-10 p.m. on Tuesday, Wednesday and Friday (ITALIAN TIME) or at mobile + 39.349.0986027 (Benedetta) BE SURE to take into consideration the time difference from your country. In case we cannot reply, leave a CLEAR, UNDERSTANDABLE message to the automatic answering device of the mobile phone giving NAME and PHONE NUMBER. You will be called back.


Bu haber Padus Araxes kaynağından gelmektedir.
Haber metninde yer alan görüşler haber kaynağı (Padus Araxes) ve yazarına ait olup,
Bolsohays.com sitesi haber hakkında herhangi bir görüş üstlenmemektedir.