Electric Company Cuts Power to Yerevan Hospital for Non-Payment; Patients Left in Corridor. -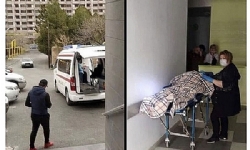 Electric Company Cuts Power to Yerevan Hospital for Non-Payment; Patients Left in Corridor.
Electricity to Yerevan's UltraImaging Radiology Scientific Center was cut at noon today because it owes the utility (Electricity Networks of Armenia-ENA) money. The power cut left a patient, brought to the Center by ambulance, stranded on a stretcher in the hallway. UltraImaging Medical Director Aram Kocharyan told Hetq that their center is conducting specialized CT and MRT examinations.

"We have been instructed to only admit emergency patients. The ambulance transported the patient and we were preparing to offer medical attention, a brain scan. The power was then cut," Khachatryan told Hetq. Center staff tried to get in touch with the ENA by phone, but no one answered. Kocharyan said that the Center had paid a majority of its utility bill and that 500,000 drams ($1,000) remains outstanding.

The Center's branch in Akhuryan has paid its total electric bill. UltraImaging management sent a letter to the ENA ten days ago, requesting a payment extension until the end of March. The Center set to receive a dollar loan to pay its debt. "We are using sophisticated diagnostic equipment. That equipment, the new MRT device, is now at risk," Kocharyan said.

He said that the Center received a dollar loan yesterday and paid off its tax liabilities in full and 70% of employee wages. No workers have been laid off since March 1, Kocharyan claimed. The loan, Kocharyan said, is set to be approved today.

ENA Head of Public and Corporate Relations Natalya Sarajyan said a recent Public Services Regulatory Commission (PSRC) statement to extend utility payment deadlines only covers individuals. Nevertheless, Sarajyan said power would be restored to Ultra Imaging. Sarajyan noted that the ENA did not receive a letter from the company.

"Depending on the situation, if people cannot pay on a certain day and say they will pay on another, we will make concessions. We'll restore power to the Center. They have promised to pay by March 31. We hope they do," said Sarajyan.

Shortly thereafter, power was restored. It wasn't due to the goodwill of the ENA, but because the Center paid the remainder of its utility bill. The loan went through.
During the power cut, the stranded patient was rushed to another medical center.

UltraImaging management has called on the government, the ENA and the PSRC to pay special attention to the needs of hospitals and medical institutions during the current coronavirus emergency in Armenia.


Bu haber Zartonk kaynağından gelmektedir.
Haber metninde yer alan görüşler haber kaynağı (Zartonk) ve yazarına ait olup,
Bolsohays.com sitesi haber hakkında herhangi bir görüş üstlenmemektedir.