Armenıan State Symphony Orchestra Dedıcates Onlıne Performance To Healthcare Workers -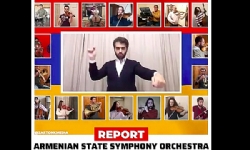 Armenıan State Symphony Orchestra Dedıcates Onlıne Performance To Healthcare Workers
The Armenian State Symphony Orchestra (ASSO) has dedicated a performance to the health workers battling the COVID-19 outbreak.

Committed to the rule of the state of emergency, musicians have joined from their homes to perform the Armenian national anthem under the baton of Sergey Smbatyan, Artistic Director and Principal Conductor of the orchestra.



Bu haber zartokmedia kaynağından gelmektedir.
Haber metninde yer alan görüşler haber kaynağı (zartokmedia) ve yazarına ait olup,
bolsohays.com sitesi haber hakkında herhangi bir görüş üstlenmemektedir.

Opinions expressed are those of the author(s)-(zartokmedia). They do not purport to reflect the opinions or views of bolsohays.com