Armenian Parliament Passes Law Crımınalizing Hate Propaganda -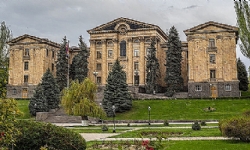 Armenian Parliament Passes Law Crımınalizing Hate Propaganda
Armenian parliament passed Wednesday the legislative amendments to the Criminal Code on the criminalization of hate propaganda.

According to the legislative package, public calls for violence against a person or group of persons by gender, race, color, ethnic or social origin, genetic characteristics, language, religion, worldview, political or other views, belonging to one or another a national minority, property status, birth, disability, age, or other social or personal characteristics will be prosecuted.

Publicly justifying such behavior will have consequences as well.

A citizen or persons who have publicly issued calls for violence will be fined AMD 50 or 100 thousand, or arrested for up to two months, or imprisoned for up to one year. However, expressions and thoughts resembling calls for violence in works of cultural and scientific significance, as well as similar calls in the disseminated scientific and fiction literature will not be prosecuted by the state.






Bu haber zartonkmedia kaynağından gelmektedir.
Haber metninde yer alan görüşler haber kaynağı (zartonkmedia) ve yazarına ait olup,
Bolsohays.com sitesi haber hakkında herhangi bir görüş üstlenmemektedir.