Armenia Reports Highest Daily Increase In COVID-19 Cases & Deaths. -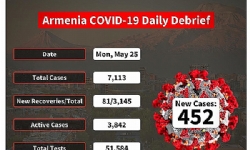 Armenia Reports Highest Daily Increase In COVID-19 Cases & Deaths
Today, the Republic of Armenia confirmed 452 new coronavirus cases and 6 new deaths, on Monday, May 25, taking the total number of cases to 7,113, per Armenia's Ministry of Health.

Out of the 7,113 total cases, 3,145 people recovered (81 Today) and 87 patients with underlying health conditions died. The remaining 3,842 are active cases, per Alina Nikoghosyan, Spokesperson for the Ministry of Health. To date, 51,584 negative coronavirus tests have been conducted in Armenia, added Nikoghosyan.

The 82nd, 83rd, 84th, 85th, 86th, 87th COVID-19 fatalities were a 85-year-old female, 61-year-old male, 58-year-old male, 69-year-old male, 86-year-old female and 67-year-old male and had pre-existing chronic diseases, , per Alina Nikoghosyan, Spokesperson for the Ministry of Health.

Yesterday, Health Minister Arsen Torosyan announced 230 patients are in serious condition, and 52 patients in critical condition.

Today, Deputy Minister of Labor & Social Affairs Zaruhi Batoyan announced that 46 people were tested at the Marie Izmirlian Orphanage, 15 of whom were diagnosed with the coronavirus. 9 are kids of the institution, 6 are employees.

Bu haber Zartonkmedia kaynağından gelmektedir.
Haber metninde yer alan görüşler haber kaynağı (Zartonkmedia) ve yazarına ait olup,
Bolsohays.com sitesi haber hakkında herhangi bir görüş üstlenmemektedir.