​Armenian Parliament Building Lit Up With Lebanon Flag -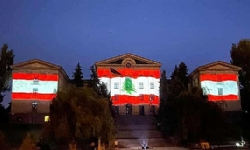 ​Armenian Parliament Building Lit Up With Lebanon Flag
The National Assembly of Armenia has been illuminated with the colors of Lebanon flag as a symbol of solidarity for Beirut, which was heavily damaged by Tuesday's blast.

More than 2700 tons of ammonium nitrate exploded in the port of Beirut at a warehouse on August 4, sending massive shockwaves through the Lebanese capital. More than 137 people are dead and 5000 are wounded. Heavy damages occurred across the city. August 5 was declared mourning day in the country. 11 Armenians are among the victims.



Bu haber massispost kaynağından gelmektedir.
Haber metninde yer alan görüşler haber kaynağı (massispost) ve yazarına ait olup,
Bolsohays.com sitesi haber hakkında herhangi bir görüş üstlenmemektedir.