​Armenian Embassy announces new charter flights from Moscow to Yerevan -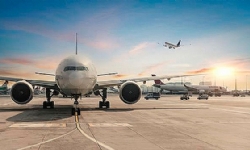 ​Armenian Embassy announces new charter flights from Moscow to Yerevan
The Armenian Embassy in Russia reports that two more charter flights will be organised from Moscow to Yerevan. The flights will be operated by Nord Star air carrier on August 23 and 24 from Domodedovo airport.

The flights are scheduled for 18.30 and 11.00 respectively.

According to the source, the tickets can be purchased at N 85 and N94 ticket boxes at the airpot during working hours from 10.00 am till 21.00.

The Embassy once again urges Armenian citizens to check the passport validity and turn to the Consular service at the Embassy upon necessity.


Bu haber panorama.am kaynağından gelmektedir.
Haber metninde yer alan görüşler haber kaynağı (panorama.am) ve yazarına ait olup,
Bolsohays.com sitesi haber hakkında herhangi bir görüş üstlenmemektedir.