Armenian Model Armine Harutyunyan, A Victim Of Body-Shaming In Italy. -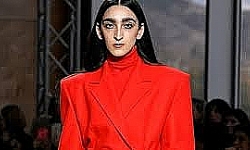 Armenian Model Armine Harutyunyan, A Victim Of Body-Shaming In Italy.
Forbes has issued an article, entitled "Who Is Armine Harutyunyan And How Did She Become A Victim of Body-Shaming In Italy?"

The author of this writes that Armenian model Armine Harutyunyan's "unconventional" appearance sparked a nation-wide debate in Italy last weekend about beauty standards, modeling, and body-shaming.

Despite the model having appeared several times now on Gucci catwalks, it seems her inclusion in a list, since revealed to be non-existent, of the 100 sexiest models in the world drawn up by Gucci was the catalyst for the sudden spotlight on Harutyunyan.

As per this article, Harutyunyan, 23, is a familiar face at Gucci shows led by Alessandro Michele. However, over the weekend there was an explosion of criticism in Italian media and on social media channels about her "unusual" looks. She became the target of negative and hateful comments insulting her appearance and questioning her validity as a model.

"Harutyunyan's features are angular, with a long nose, thick eyebrows and deep, dark eyes. That she does not fit the 'normal' canon of model beauty is an intentional choice by Michele, who has been favoring underappreciated forms of beauty in his shows for several years now," Forbes wrote.

Jonathan Bazzi, an Italian author, took to Instagram in an attempt to explain this evolution of beauty standards in the industry. He writes, "models today very often aren't 'beautiful', the fashion world has a language which is not that of 20, 30 years ago. Characters and faces are chosen on the basis of their meaning and the atmosphere desired by the creative director, they are no longer the embodiment of the audience's erotic fantasies."

In response to the storm of negativity, Harutyunyan spoke to national paper La Repubblica about body positivity and diversity. "People are scared by everything that is different," she commented, but for her, "there are many different ways of being beautiful." Harutyunyan remarked that this is not the first time she has received negative comments about her appearance and while it hurts, she is determined to ignore them. "It is better to be different than conform to others, even if this is not understood by everyone," she said. "My advice is to concentrate on yourself, on who you are and what you really love."



Bu haber zarttonkmedia kaynağından gelmektedir.
Haber metninde yer alan görüşler haber kaynağı (zarttonkmedia) ve yazarına ait olup,
Bolsohays.com sitesi haber hakkında herhangi bir görüş üstlenmemektedir.