Karabakh conflict: Kremlin calls on Turkey not to add add fuel to fire -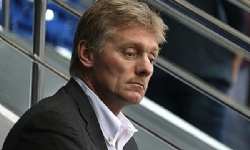 Karabakh conflict: Kremlin calls on Turkey not to add add fuel to fire
The Kremlin is confident that statements about possible military support for Azerbaijan and Armenia only add fuel to the fire, Kremlin Spokesman Dmitry Peskov told reporters today.

"It's necessary to persuade the parties to return to a political-diplomatic way of settlement," he said.

"The Kremlin, first of all, proceeds from the need for an early ceasefire and end to hostilities. Any statements about any military support or military activity definitely add fuel to the fire. We are categorically against this," Peskov stated.

"We call on all countries, especially our partners, such as Turkey, to do everything to convince the opposing sides to cease fire and return to a peaceful settlement of this long-standing conflict through political and diplomatic means," Peskov said.


Bu haber kaynağından gelmektedir.
Haber metninde yer alan görüşler haber kaynağı () ve yazarına ait olup,
bolsohays.com sitesi haber hakkında herhangi bir görüş üstlenmemektedir.

Opinions expressed are those of the author(s)-(). They do not purport to reflect the opinions or views of bolsohays.com