Armenia says its fighter jet `shot down by Turkey -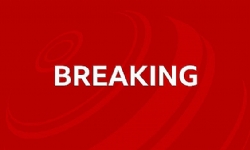 Armenia says its fighter jet `shot down by Turkey
Armenia says one of its fighter jets was shot down by a Turkey jet, in a major escalation of a conflict over the disputed Nagorno-Karabakh region.
The Armenian foreign ministry said the pilot of the Soviet-made SU-25 died after being hit by the Turkish F-16 in Armenian air space.
Turkey, which is backing Azerbaijan in the conflict, has denied the claim.
Nearly 100 people, including civilians, have died in three days of fighting over the disputed mountainous region.
The mountainous enclave is officially part of Azerbaijan, but has been run by ethnic Armenians since 1994.
The fighting that started three days ago now appears to be spilling out of Nagorno-Karabakh.
Armenia and Azerbaijan - which have already mobilised more soldiers and declared martial law in some areas - blame each other for starting the fighting.
There are growing concerns that other countries may get directly involved in the conflict in the strategic Caucasus region.
While Turkey is backing Azerbaijan, Russia - which has a military base in Armenia - has called for an immediate ceasefire.



Bu haber kaynağından gelmektedir.
Haber metninde yer alan görüşler haber kaynağı () ve yazarına ait olup,
bolsohays.com sitesi haber hakkında herhangi bir görüş üstlenmemektedir.

Opinions expressed are those of the author(s)-(). They do not purport to reflect the opinions or views of bolsohays.com