Nagorno-Karabakh`s capital hit in new Azerbaijani attack -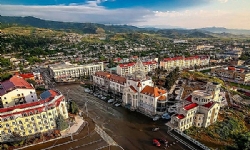 Nagorno-Karabakh`s capital hit in new Azerbaijani attack
The Armenian Ministry of Defense reports new Azerbaijani strikes against Nagorno-Karabakh's capital city.

"They hit Stepanakert again," the agency's official representative, Artsrun Hovhannisyan, said on Facebook.

Azerbaijan's armed forces launched large-scale offensives along the frontline on Sunday morning (October 27), targeting also the civilian settlements of Nagorno-Karabakh (including Stepanakert). The Artsakh defense forces have shot down 11 war helicopters, five warplanes (three Su-25 jet aircrafts), 96 UAVs, 184 units of armored vehicles (mainly tanks), one warplane, 82 transport vehicles, 18 armored personnel carriers, multiple rocket launchers (one unit of TOS-1A, two units of BM-30 Smerch and one unit of BM-27 Uragan).

Azerbaijan has lost over 1,280 troops. Armenia reported 158 losses as of Friday morning; over 2,700 servicemen are known to have been wounded in the attacks.

Azerbaijan expanded the aggression to Armenia's territory earlier this week, striking civilian and military infrastructures. One civilian was killed in Vardenis in the wake of the attacks. Seven civilian casualties were reported in Nagorno-Karabakh. The Azerbaijani offensives have also left several journalists wounded (representing both the local and foreign media). Armenia and Nagorno-Karabakh have declared martial law and a general mobilization.



Bu haber kaynağından gelmektedir.
Haber metninde yer alan görüşler haber kaynağı () ve yazarına ait olup,
bolsohays.com sitesi haber hakkında herhangi bir görüş üstlenmemektedir.

Opinions expressed are those of the author(s)-(). They do not purport to reflect the opinions or views of bolsohays.com