Yazidis of Armenia stand firm on the border to protect the common homeland -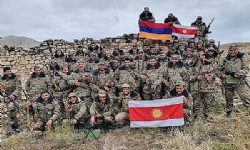 Yazidis of Armenia stand firm on the border to protect the common homeland
Less than a minuteYazidis stand firmly on the border and protect our common homeland, Member of Parliament from the ruling My Step faction Rustam Bakoyan captioned a photo shared on social media.

Bakoyan represents the Yazidi community of Armenia.


Bu haber armradio kaynağından gelmektedir.
Haber metninde yer alan görüşler haber kaynağı (armradio) ve yazarına ait olup,
Bolsohays.com sitesi haber hakkında herhangi bir görüş üstlenmemektedir.