​Putin believes nearly 5,000 people killed in Nagorno-Karabakh conflict -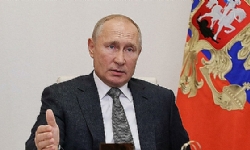 ​Putin believes nearly 5,000 people killed in Nagorno-Karabakh conflict
Russian President Vladimir Putin said Moscow believed that nearly 5,000 people had been killed in Nagorno Karabakh conflict zone, Reuters reported.

"There are a lot of casualties from both sides, more than 2,000 from each side," Putin told a meeting of the Valdai Discussion Club.

The Russian president noted that Armenia and Azerbaijan are 'equal partners' for Russia. "Armenia and Azerbaijan are equal partners for Russia, and for us it is a tragedy to see people being killed there. We want to build full-fledged relationship with both Armenia and Azerbaijan," said Putin.

The Russian president also said the United States and European countries would help Russia broker a solution to the conflict.

To note, as of October 22, the Armenian side has officially confirmed 871 losses. Azerbaijan does not release data about own casualties, however, according to the data by the Defense Army, the adversary has suffered 6,459 losses in manpower as of October 21.





Bu haber panorama.am kaynağından gelmektedir.
Haber metninde yer alan görüşler haber kaynağı (panorama.am) ve yazarına ait olup,
bolsohays.com sitesi haber hakkında herhangi bir görüş üstlenmemektedir.

Opinions expressed are those of the author(s)-(panorama.am). They do not purport to reflect the opinions or views of bolsohays.com