​The Central Market In Stepanakert Was Targeted By The Azerbaijani Armed Forces -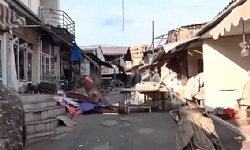 ​The Central Market In Stepanakert Was Targeted By The Azerbaijani Armed Forces
At around 7:08 am on Saturday, the Azerbaijani armed forces have shelled Stepanakert and Shushi, violating the agreement reached Friday in Geneva, Switzerland, and mediated by the OSCE Minsk Group Co-Chairs, on the non-targeting of peaceful settlements.

The Artsakh Defense Army informed that the central market and one residential house in Stepanakert were targeted by the adversary forces.

And as a result of the Azerbaijani shelling of Shushi town, there are injured among its civilian population.


Bu haber armradio kaynağından gelmektedir.
Haber metninde yer alan görüşler haber kaynağı (armradio) ve yazarına ait olup,
bolsohays.com sitesi haber hakkında herhangi bir görüş üstlenmemektedir.

Opinions expressed are those of the author(s)-(armradio). They do not purport to reflect the opinions or views of bolsohays.com