Children In Artsakh Are 100% Deprived Of The Right To Education: Artsakh Ombudsman -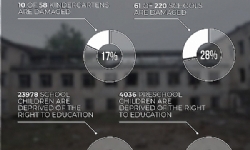 Children In Artsakh Are 100% Deprived Of The Right To Education: Artsakh Ombudsman
Children In Artsakh Are 100% Deprived Of The Right To Education: Artsakh Ombudsman2020-11-02Due to the Turkish-Azerbaijani aggression, many schools and kindergartens in Artsakh were damaged. Children in Artsakh are 100% deprived of the right to education, Artsakh Ombudsman office informs.Details are in the infographic.


Bu haber armedia kaynağından gelmektedir.
Haber metninde yer alan görüşler haber kaynağı (armedia) ve yazarına ait olup,
Bolsohays.com sitesi haber hakkında herhangi bir görüş üstlenmemektedir.