​Spain congressman visiting Armenia calls on to expel Turkey from NATO -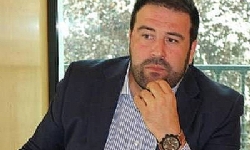 ​Spain congressman visiting Armenia calls on to expel Turkey from NATO
Spain's Congressman Jon Inarritu, who is currently in Armenia as part of a delegation of parliamentarians and journalists from Spain to get acquainted with the consequences of the Azerbaijani-Turkish aggression against Artsakh (Nagorno-Karabakh), has called on to remove Turkey from NATO.

"Prohibited weapons are used against us, whereas the world is silent about this. Why do the Western powers not throw Turkey out of NATO?" Inarritu wrote, in particular, on Twitter.

The politician also published a video attached to this post, and in which an Armenian old man sitting next to his relatives calls on to remove Turkey from NATO and not allow that country to realize the Pan-Turkic dream of its ancestors.


Bu haber news.am kaynağından gelmektedir.
Haber metninde yer alan görüşler haber kaynağı (news.am) ve yazarına ait olup,
bolsohays.com sitesi haber hakkında herhangi bir görüş üstlenmemektedir.

Opinions expressed are those of the author(s)-(news.am). They do not purport to reflect the opinions or views of bolsohays.com