​Artsakh Forces Currently Conducting Defensive Operations To Neutralize Azeri Soldiers In Direction -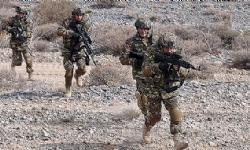 ​Artsakh Forces Currently Conducting Defensive Operations To Neutralize Azeri Soldiers In Direction Of Shushi
Operations are underway to surround and neutralize a group of Azerbaijani soldiers detected in the direction of the fortress town of Shushi, per Shushan Stepanyan, Spokeswoman of the Armenian Ministry of Defense.




Bu haber zartonkmedia kaynağından gelmektedir.
Haber metninde yer alan görüşler haber kaynağı (zartonkmedia) ve yazarına ait olup,
Bolsohays.com sitesi haber hakkında herhangi bir görüş üstlenmemektedir.