​Pro-Armenian Adam Schiff wins re-election to US Congress -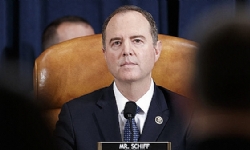 ​Pro-Armenian Adam Schiff wins re-election to US Congress
Adam Schiff won the US elections in California and was re-elected a member of the US Congress, 1lurer.am reported on Saturday.

Gaining 74% of the vote, Schiff won a landslide victory over his Republican rival.

Adam Schiff is one of the congressmen engaged in Armenian lobbying.


Bu haber panorama.am kaynağından gelmektedir.
Haber metninde yer alan görüşler haber kaynağı (panorama.am) ve yazarına ait olup,
Bolsohays.com sitesi haber hakkında herhangi bir görüş üstlenmemektedir.