Armenians protest at Lincoln Memorial, raise awareness about Azerbaijani-Turkish violence[ -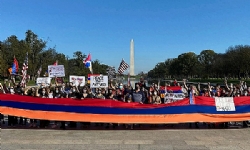 Armenians protest at Lincoln Memorial, raise awareness about Azerbaijani-Turkish violence[
Armenians held a silent protest at the Lincoln Memorial today to raise awareness about the ongoing war in Artsakh.

The rally was organized by the AYF Washington DC "Ani" Chapter.

The protesters urged to stop the Azerbaijani-Turkish aggression against Armenians and called for recognition of Artsakh.


Bu haber armradio kaynağından gelmektedir.
Haber metninde yer alan görüşler haber kaynağı (armradio) ve yazarına ait olup,
bolsohays.com sitesi haber hakkında herhangi bir görüş üstlenmemektedir.

Opinions expressed are those of the author(s)-(armradio). They do not purport to reflect the opinions or views of bolsohays.com