Armenian MFA denies PM: At no stage of the peace process there was a question of rejecting Shushi -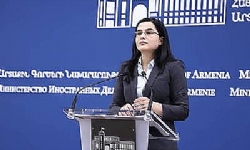 Armenian MFA denies PM: At no stage of the peace process there was a question of rejecting Shushi
At no stage of the peace process, there was a question of giving up the city of Shushi, Armenian foreign ministry spokesperson Anna Naghdalyan wrote on her Facebook.

Today, during a press conference, Armenian PM Nikol Pashinyan was asked whether, at the different stages of the war, there were different documents that were more beneficial than the statement signed on November 9.

"As for the various documents, this was not the case," the PM replied. "There was the same logic of ending the war as before the start of the war - these territories should be transferred to Azerbaijan, including Shushi, and without any status. It was like that before the war. This has been the case since 2016, and the April war was the last signal in this story, with the only difference that this time it was no longer possible to stop the war with any oral statement or commitment."


Bu haber news.am kaynağından gelmektedir.
Haber metninde yer alan görüşler haber kaynağı (news.am) ve yazarına ait olup,
bolsohays.com sitesi haber hakkında herhangi bir görüş üstlenmemektedir.

Opinions expressed are those of the author(s)-(news.am). They do not purport to reflect the opinions or views of bolsohays.com