​Tankian: Recognizing Artsakh is only way to guarantee peaceful, safe life for Armenians of Artsakh -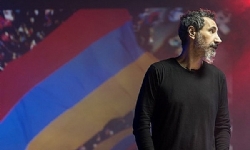 ​Tankian: Recognizing Artsakh is only way to guarantee peaceful, safe life for Armenians of Artsakh
Recognizing Artsakh is the only way to guarantee a peaceful and safe life for the Armenians of Artsakh, System of a Down star Serj Tankian noted.

"The Senate passing the resolution was the first step. It's time for National Assembly to vote Yes. I call for Florian Bachelier Richard Ferrand – Président de l'Assemblée nationale, député du Finistère Pieyre Alexandre Anglade, Député à l'Assemblée nationale to #RecongizeArtsakh," he noted.





Bu haber news.am kaynağından gelmektedir.
Haber metninde yer alan görüşler haber kaynağı (news.am) ve yazarına ait olup,
bolsohays.com sitesi haber hakkında herhangi bir görüş üstlenmemektedir.

Opinions expressed are those of the author(s)-(news.am). They do not purport to reflect the opinions or views of bolsohays.com