​Nikol Pashinyan: Armenia`s international perception as `occupant` stems from past 25 years` policy -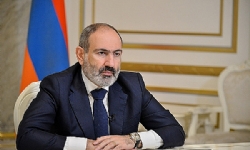 ​Nikol Pashinyan: Armenia`s international perception as `occupant` stems from past 25 years` policy approaches
The developing international perception of Armenia as an "occupant" dates its roots back to the policies pursued in the past quarter century, Prime Minister Nikol Pashinyan said in an address to the nation today, dismissing the criticism against himself and his government.

"We are being accused of the fact that the international community is perceiving the aggression unleashed by Azerbaijan as the restoration of that country's territorial property. That accusation is being voiced by a person who, in the light of the international community's accusations against Armenia of a "documented occupation" of Azerbaijani territories under his rule, was explaining to the Armenian society that "there isn't anything bad about that", as the word 'occupied' is a sign which normally appears on the airplane lavatory door once someone is inside," he said, noting that the kind of low-key diplomacy, pursued in the early 2000s,. was known to every single citizen of Armenia,

"But time probably erases memory," the prime minister continued, "allowing certain people to profit by the occasion. What I mean is this kind of attitude by the international community developed in the past 25 years, not just in 2020. The Karabakh issue came to be perceived as a territorial dispute, and it became the greatest problem given that the international community started perceiving Armenia as an occupant. It isn't something that happened in the past couple of years."

Pashinyan's address came in response to second President Robert Kocharyan who blamed the current Armenian government for the recent war in a televised interview on Friday.

Addressing the repeatedly made calls for responsibility, the prime minister said, "Now they are placing a direct responsibility on me. Has the prime minister himself led a battle? Is the prime minister's decision-making power on the level of a detachment or regiment commander? Did the prime minister make decisions at his own sole discretion? The prime minister made a decision on his own only once during the war, and it is thanks to that decision that the seventh defense region, which some people had decided to hand over in a state of panic, is now in its place."





Bu haber tert.am kaynağından gelmektedir.
Haber metninde yer alan görüşler haber kaynağı (tert.am) ve yazarına ait olup,
bolsohays.com sitesi haber hakkında herhangi bir görüş üstlenmemektedir.

Opinions expressed are those of the author(s)-(tert.am). They do not purport to reflect the opinions or views of bolsohays.com