Moderna says it can provide EU with 300 million doses of COVID-19 vaccine -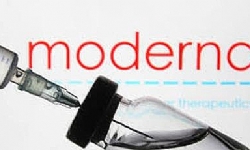 Moderna says it can provide EU with 300 million doses of COVID-19 vaccine
Moderna has sufficient production capacity to supply the countries of the European Union with a much larger number of doses of coronavirus vaccine than ordered 80 million, the head of the American corporation, French Stephane Bancel, said on Saturday in an interview with France Info radio station.

According to him, the company can supply the EU with 300 million doses of the drug.

The United States is by no means the main market for the company, he said.

The European Commission has so far ordered 80 million doses from Moderna, with an option for another 80 million doses. But if they want to receive 300 million doses, then we will supply them - the volumes provided for in 2021 are determined by the commission, not by Moderna, he added.

Bancel said that it has been established that the vaccine created by Moderna provides 94% of people with one hundred percent protection against COVID-19 when infected with coronavirus, TASS reported.

The remaining 6% of those infected have only mild symptoms of the disease. During the tests, we did not have a single patient with a severe form of COVID-19, which would require hospitalization, intensive care in intensive care, or lead to death, the head of the corporation said.

He said that Moderna submitted a vaccine dossier on November 30 to the European Medicines Agency (EMA), as well as to similar structures in the United States, Canada, the United Kingdom, and several other countries.

Speaking about the trials of the vaccine, he said that during the final third phase, it was tested on 30 thousand people.

He admitted that it has not yet been established whether the vaccine avoids infection with the COVID-19.

According to the head of the corporation, the vaccine developed by Moderna provides immunity against coronavirus for at least three months.


Bu haber news.am kaynağından gelmektedir.
Haber metninde yer alan görüşler haber kaynağı (news.am) ve yazarına ait olup,
bolsohays.com sitesi haber hakkında herhangi bir görüş üstlenmemektedir.

Opinions expressed are those of the author(s)-(news.am). They do not purport to reflect the opinions or views of bolsohays.com