Artsakh emergency service: Bodies of another 3 fallen Armenian soldiers found during search -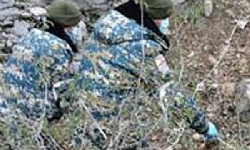 Artsakh emergency service: Bodies of another 3 fallen Armenian soldiers found during search
The bodies of three more Armenian servicemen were found during the search operations carried out in the area of the recent military actions. Hunan Tadevosyan, head of the information and public relations department of the Artsakh (Nagorno-Karabakh) State Service for Emergency Situations, stated about this on Saturday morning.

According to him, the bodies of these servicemen were found at the combat positions of the Jabrayil region.

"Thanks to search operations, the remains of a total of 1,197 servicemen and civilians have been found and retrieved so far from the areas of the [recent] military actions. Due to the shift of Russian peacekeepers, search and rescue operations on Saturday and Sunday will continue as of Monday," Tadevosyan added.

On November 9, Armenian Prime Minister Nikol Pashinyan, Azerbaijani President Ilham Aliyev, and Russian President Vladimir Putin signed a joint statement on a complete cessation of hostilities—which Azerbaijan had launched on September 27—in and around Artsakh. Accordingly, Russian peacekeepers are deployed in the region to monitor the implementation of the ceasefire and the cessation of hostilities.





Bu haber armradio kaynağından gelmektedir.
Haber metninde yer alan görüşler haber kaynağı (armradio) ve yazarına ait olup,
bolsohays.com sitesi haber hakkında herhangi bir görüş üstlenmemektedir.

Opinions expressed are those of the author(s)-(armradio). They do not purport to reflect the opinions or views of bolsohays.com