​Sister Maria Concetta Mustacciu died of Covid-19: guardian of the Church of Tarsus -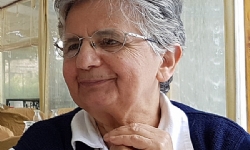 ​Sister Maria Concetta Mustacciu died of Covid-19: guardian of the Church of Tarsus
Tarsus (Agenzia Fides) - Sister Maria Concetta Mustacciu of the Congregation of the Daughters of the Church died yesterday, Monday, January 11th as a result of Covid-19 disease. Sister Maria Concetta was the mother superior of the small congregation "Mater Gentium" in Tarsus, the city of St. Paul, since 2013 (in the photo in the center, together with sisters Bianca Agnese Trabaldo and Maria Tanzen ). Italian sister Maria Concetta was of Sardinian origin and had lived and worked for many years in various parishes in the Ligurian city of Sanremo before emigrating to Turkey. She accepted the request to go as a missionary to the hometown of the Apostle of the Gentiles without reservation.

There is no Christian church in Tarsus these days. Sister Maria Concetta accompanied and led visitors and tourists, with her two sisters, through the Church-museum, which is dedicated to St. Paul the Apostle, and accommodated groups of Christian pilgrims who come in the footsteps of the saint to this city in southern Turkey and ask to celebrate the Eucharistic liturgy in the place of worship that bears his name.

Sister Maria Concetta, who lived together with her sisters as the only Christian women in Tarsus, guarded the "Pauline Places" at the birthplace of the great missionary, called by Christ himself to announce the Gospel to the peoples. Sister Maria Concetta was a witness of the love of Christ in the midst of a people of Muslim faith and tirelessly helped the poor in the city, who were even more in need due to the pandemic, and gave them clothes that she had cleaned and repaired herself, along with food parcels from Caritas Turkey .

On the mission of the religious order and the question "What are we doing here?" Sister Maria di Meglio arrived shortly after her arrival in Tarsus in 1993 to start her new mission, which was then entrusted to the Daughters of the Church: "We could do as much good in Africa or South America as so many of our heroic sisters ... but if we moved away from Tarsus, the lamp in front of the tabernacle would remain unlit. Yes, we are here to keep the lights on"





Bu haber fides kaynağından gelmektedir.
Haber metninde yer alan görüşler haber kaynağı (fides) ve yazarına ait olup,
bolsohays.com sitesi haber hakkında herhangi bir görüş üstlenmemektedir.

Opinions expressed are those of the author(s)-(fides). They do not purport to reflect the opinions or views of bolsohays.com