Azerbaijan Blocks UNESCO From Visiting Armenian Cultural Sites in Karabakh -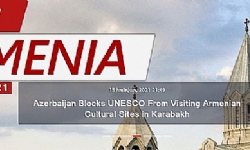 Azerbaijan Blocks UNESCO From Visiting Armenian Cultural Sites in Karabakh
Armenian FM Ara Ayvazian spoke to journalists regarding the state of Artsakh.
The Russian Defense Ministry has begun vaccinating on Russian personnel in Karabakh.
The Catholicos states that Azerbaijan is blocking UNESCO from visiting Armenian cultural sites.
Bu haber civilnet kaynağından gelmektedir.
Haber metninde yer alan görüşler haber kaynağı (civilnet) ve yazarına ait olup,
Bolsohays.com sitesi haber hakkında herhangi bir görüş üstlenmemektedir.