​President Sarkissin to be discharged from hospital soon -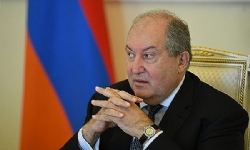 ​President Sarkissin to be discharged from hospital soon
President Armen Sarkissian, who was infected with Covid-19, will be discharged from hospital in the coming days, his Office says.

The President will continue the treatment at home under the supervision of doctors.

After recovering, the President will return to Armenia as soon as he receives an appropriate permission from doctors. Until then he will continue to work remotely.


Bu haber armradio kaynağından gelmektedir.
Haber metninde yer alan görüşler haber kaynağı (armradio) ve yazarına ait olup,
bolsohays.com sitesi haber hakkında herhangi bir görüş üstlenmemektedir.

Opinions expressed are those of the author(s)-(armradio). They do not purport to reflect the opinions or views of bolsohays.com