​PM Pashinyan visits soldiers who returned home after missing for 70 days -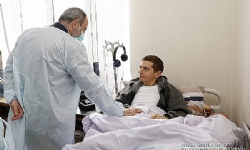 ​PM Pashinyan visits soldiers who returned home after missing for 70 days
Prime Minister Nikol Pashinyan visited the National Burn Center to see the soldiers who are recovering after returning home on December 20, 2020 after missing for about 70 days.

The medical staff briefed the Prime Minister on the health condition of the servicemen and the process of recovery. Nikol Pashinyan talked to the servicemen, wished them a speedy recovery and thanked them for their dedicated service.


Bu haber armradio kaynağından gelmektedir.
Haber metninde yer alan görüşler haber kaynağı (armradio) ve yazarına ait olup,
bolsohays.com sitesi haber hakkında herhangi bir görüş üstlenmemektedir.

Opinions expressed are those of the author(s)-(armradio). They do not purport to reflect the opinions or views of bolsohays.com