Hayastani Hanrapetutyun: Ankara 'seeks to apply' Artsakh war scenario and Syrian precedent to Ukrain -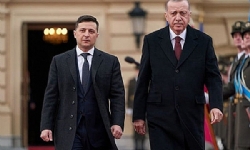 Hayastani Hanrapetutyun: Ankara 'seeks to apply' Artsakh war scenario and Syrian precedent to Ukraine
Ukrainian Presidnet Volodymyr Zelensky (L) with Turkish President Recep Tayyip Erdogan

Turkey is thought to be probing for chances to repeat the scenarios of the second Nagorno-Karabakh (Artsakh) war and the Syrian military conflict in Ukraine, a plan which the paper says "implies a dirct controntation with Russia" given that country's shared boder with Donbas.

The paper refers to Moscow's earlier repeated threats to leave the population in Ukraine's eastern region unprotected, noting at the same time the Ukrainian and Turkish forces' success in case of an armed conflict would make Crimea and the Caucasian part of Russia the next target of military actions.

An escalation in Ukraine would definitely increase the risks also for Artsakh, as well as the regions close to Syunik, says the paper, highlighting the increasing importance of a joint Russian-Armenian contingent and the rapid recovery of the military supplies in the Armenian army's arsenal.





Bu haber tert.am kaynağından gelmektedir.
Haber metninde yer alan görüşler haber kaynağı (tert.am) ve yazarına ait olup,
bolsohays.com sitesi haber hakkında herhangi bir görüş üstlenmemektedir.

Opinions expressed are those of the author(s)-(tert.am). They do not purport to reflect the opinions or views of bolsohays.com