​Azerbaijanis rename Yerevan streets on Google Map -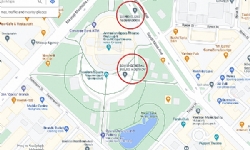 ​Azerbaijanis rename Yerevan streets on Google Map
Azerbaijani internet users have edited several addresses in Yerevan on Google Map, renaming them after their heroes.

Naira Zohrabyan of the opposition Prosperous Armenia party (PAP) raised alarm over the issue on Saturday morning, sharing the image of the map with changed addresses in central Yerevan.

"My residence address thus turns out a street named after a certain Polad Hasimov. Keep on preachig brotherhood with the Turk!" she said in a statement on Facebook.

A subsequent fact-checking by Tert.am also revealed addresses with Azerbaijani names in the Armenian capital.

A renamed location was also found in the village of Ptghunk in the north-western Armavir region.





Bu haber tert.am kaynağından gelmektedir.
Haber metninde yer alan görüşler haber kaynağı (tert.am) ve yazarına ait olup,
Bolsohays.com sitesi haber hakkında herhangi bir görüş üstlenmemektedir.