Charles Aznavour statue to be installed in Varna, Bulgaria -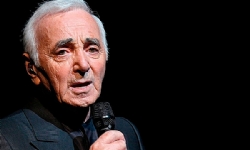 Charles Aznavour statue to be installed in Varna, Bulgaria
A monument to Charles Aznavour is going to be installed in the Bulgarian resort city of Varna, the world-famous crooner's daughter said on Facebook.

"The project will be carried out thanks to the cooperation of the Aznavour Foundation and the AGBU Varna. The memorandum has already been signed and will be implemented soon," reads Seda Aznavour's public post.





Bu haber tert.am kaynağından gelmektedir.
Haber metninde yer alan görüşler haber kaynağı (tert.am) ve yazarına ait olup,
bolsohays.com sitesi haber hakkında herhangi bir görüş üstlenmemektedir.

Opinions expressed are those of the author(s)-(tert.am). They do not purport to reflect the opinions or views of bolsohays.com