​Armenian serviceman killed by Azeri sniper in border attack -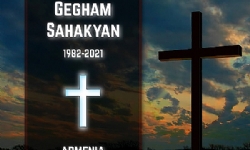 ​Armenian serviceman killed by Azeri sniper in border attack
A new month begins in Armenia with the loss of yet another Armenian serviceman killed this week along the country's militarized border with Azerbaijan.

On the morning of September 1 along Armenia's border with Nakhichevan, Armenia's Ministry of Defense announced that 39-year-old Junior Sergeant Gegham Sahakyan was fatally wounded by Azeri sniper fire in the region of Ararat near the village of Yeraskh. In a tweet, Armenia's MoD has condemned the military and political leadership of Azerbaijan for their role in the unprovoked attack.

This is the second deadly attack in a matter of weeks in the province of Ararat. Last month, one serviceman was fatally wounded near the village of Yeraskh, another in the province of Gegharkunik.

The Armenia-Azerbaijan border has been volatile since Azerbaijani forces invaded Syunik and Gegharkunik on May 12. On August 29, Armenian military officials say they had to defend their positions during an intense hours-long shootout in the province of Gegharkunik and the village of Sotk. Armenia's MoD says they stopped firing upon the sight of an ambulance driving up to Azerbaijan's military positions.

Also in the province of Gegharkunik, civilians and fire officials have been working through the night to put out a raging fire that's spreading in the pastures and hayfields of Kut and Sotk. Armenia's Human Rights Defender Arman Tatoyan says the fires, which were intentionally set by Azerbaijan's military over the weekend, have been spreading uncontrollably due to windy weather conditions. The blaze is concentrated in higher areas of the mountainous region, challenging the reach of proper firefighting equipment. Residents are participating in the firefight.


"Azerbaijani servicemen are well aware that they are located in the hayfields, arable lands and pastures belonging to civilian residents," said Tatoyan. "People cannot use the areas in the vicinity of the Azerbaijani positions, since they shoot even when people approach those places," he explained of the visible threats in the region. Tatoyan's fact-finding work across four villages in the vulnerable province enumerated 270 hectares of pastures and 150 hectares of grassland burned since August 29.


Bu haber armenianweekly kaynağından gelmektedir.
Haber metninde yer alan görüşler haber kaynağı (armenianweekly) ve yazarına ait olup,
bolsohays.com sitesi haber hakkında herhangi bir görüş üstlenmemektedir.

Opinions expressed are those of the author(s)-(armenianweekly). They do not purport to reflect the opinions or views of bolsohays.com