​Catholicos of All Armenians to meet Pope Francis -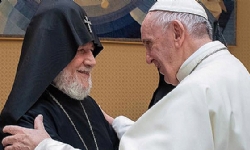 ​Catholicos of All Armenians to meet Pope Francis
His Holiness Karekin II, Supreme Patriarch and Catholicos of All Armenians, departed for Rome on Tuesday to participate in the "People as Brothers and the Future of the Country: Religions and Cultures in Dialogue" Conference and Inter-Church Prayer, organized by Sant'Egidio Community.

As Information Department at the Mother See reports, during the visit, the Pontiff of All Armenians will meet with His Holiness Pope Francis.

The delegation members accompanying His Holiness are His Eminence Archbishop Khajak Parsamyan, Pontifical Lelegate of Western Europe and representative of the Catholicos of All Armenians in Vatican; His Grace Bishop Moushegh Babayan, Grand Sacristan of the Mother See; Mr. Arman Tatoyan, Human Rights Defender of the Republic of Armenia; Rev. Fr. Archimandrite Karekin Hambardzumyan, Director of the Mission Department and the Department of the Preservation of Spiritual-Cultural Heritage of Artsakh operating in the Mother See; and Rev. Fr. Anania Tsaturyan, Staff-bearer of His Holiness.

His Beatitude Archbishop Sahak Mashalian, Armenian Patriarch of Constantinople; will also attend the Conference and Inter-Church Prayer.


Bu haber panorama.am kaynağından gelmektedir.
Haber metninde yer alan görüşler haber kaynağı (panorama.am) ve yazarına ait olup,
bolsohays.com sitesi haber hakkında herhangi bir görüş üstlenmemektedir.

Opinions expressed are those of the author(s)-(panorama.am). They do not purport to reflect the opinions or views of bolsohays.com