​Azerbaijani units violate ceasefire near Shosh and Taghavard villages -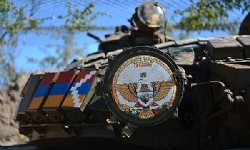 ​Azerbaijani units violate ceasefire near Shosh and Taghavard villages
The Artsakh Defense Army has denied shooting at Azerbaijani positions. The Azerbaijani Defense Ministry earlier issued a statement, claiming that units of the Defense Army had opened fire on the Azerbaijani positions located near the villages of Shosh and Taghavard on February 20 and 21.

"The ceasefire in the mentioned area was actually violated by the Azerbaijani units, which opened irregular fire in the direction of the Defense Army positions," Artsakh's Ministry of Defense said.

No casualties were reported.

The command of the Russian peacekeeping contingent has been informed about the violation of the ceasefire by the Azerbaijani units.


Bu haber armradio kaynağından gelmektedir.
Haber metninde yer alan görüşler haber kaynağı (armradio) ve yazarına ait olup,
bolsohays.com sitesi haber hakkında herhangi bir görüş üstlenmemektedir.

Opinions expressed are those of the author(s)-(armradio). They do not purport to reflect the opinions or views of bolsohays.com