Ukraine's president, Christian Orthodox spiritual leader speak by phone -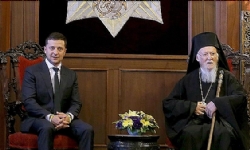 Ukraine's president, Christian Orthodox spiritual leader speak by phone
Ukrainian President Volodymyr Zelenskyy spoke by phone early Monday with Ecumenical Patriarch Bartholomew, the spiritual head of around 300 million Orthodox Christians worldwide.

"Thank you for the warm conversation, Your All-Holiness #Bartholomew. Your words are like hands that hold us up in this difficult time. Ukrainians feel the spiritual support and strength of your prayers. We hope for the soonest peace," Zelenskyy wrote on Twitter after the phone call.

Bartholomew I, the head of Istanbul's Fener Greek Orthodox Patriarchate and the spiritual leader of the world's Eastern Orthodox Christians, released a statement earlier calling for an end to the war with Russia and any acts of violence in Ukraine.

"Indeed, a tragic humanitarian catastrophe has been unfolding in Ukraine for the last 24 hours. A war which, like any war, is an abominable and reprehensible situation. It is the domination of irrationality over reason, hatred over love, darkness over light, death over life.

"Again, from this position, we address another plea to end the war now! To immediately stop any act of violence, anything that spreads pain and death. Let reason prevail, love for fellow human beings, reconciliation and solidarity, the light of the Risen Christ, the gift of life," he said in a speech Sunday after the Divine Liturgy.

"We express our full sympathy to our brother, the Primate of the Church of Ukraine, His Beatitude Metropolitan Epiphanios of Kyiv, and our unwavering support to all the seriously suffering Ukrainian people, who have a deep faith in God and chose to live freely and to determine their own lives, as every nation deserves. Although, unfortunately, some have come, these days, to the point of questioning even their historical and national existence. Our thoughts are constantly with the wounded and with the families of the innocent victims, irrespective of their ethnic identity, and we pray for the rest of their souls to the Lord of Life and Death. We are certain that the Lord will hear our prayers and will not abandon his beloved children in Ukraine," the statement said.

The Russia-Ukraine war entered its fifth day after Moscow launched an attack on Kyiv last Thursday.

The Russian attacks were met by an outcry from the international community, with the European Union, UK and the US implementing a range of economic sanctions against the Kremlin.

Russia has been further isolated as its airlines have been banned from travelling in European airspace and a number of its banks have been kicked out of the SWIFT international banking system.


Bu haber A.A. kaynağından gelmektedir.
Haber metninde yer alan görüşler haber kaynağı (A.A.) ve yazarına ait olup,
bolsohays.com sitesi haber hakkında herhangi bir görüş üstlenmemektedir.

Opinions expressed are those of the author(s)-(A.A.). They do not purport to reflect the opinions or views of bolsohays.com