Georgian language to be taught in Armenian schools -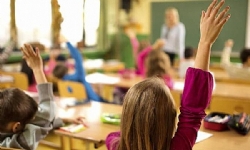 Georgian language to be taught in Armenian schools
Georgian language will be studied in several schools of Armenia starting this year, the minister of Education, Science, Culture and Sport Vahram Dumanyan told reporters.

"Georgian will be studied in some schools of Armenia, not only in several schools of border provinces. We are ready," he said.

Details will be presented soon, he added.


Bu haber armenpress kaynağından gelmektedir.
Haber metninde yer alan görüşler haber kaynağı (armenpress) ve yazarına ait olup,
bolsohays.com sitesi haber hakkında herhangi bir görüş üstlenmemektedir.

Opinions expressed are those of the author(s)-(armenpress). They do not purport to reflect the opinions or views of bolsohays.com