​Fear for Armenians: Cher calls for action against Azerbaijan -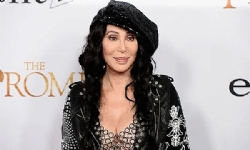 ​Fear for Armenians: Cher calls for action against Azerbaijan
No one protects the Armenians from Azerbaijan, Armenian American pop star Cher (Cherilyn Sarkisian) said in a Twitter post.

"I fear for Armenians. No one protects them from Azerbaijan. Armenia has no oil, and the Azerbaijani are already killing them," Cher said.

"When I visited Yerevan, I went to orphanages, where Armenian children had no parents, because they were massacred by Azerbaijanis. The world said nothing, they had no oil," she contonied.



Bu haber armradio kaynağından gelmektedir.
Haber metninde yer alan görüşler haber kaynağı (armradio) ve yazarına ait olup,
bolsohays.com sitesi haber hakkında herhangi bir görüş üstlenmemektedir.

Opinions expressed are those of the author(s)-(armradio). They do not purport to reflect the opinions or views of bolsohays.com