​Two Armenian churches in Syria damaged in powerful quake -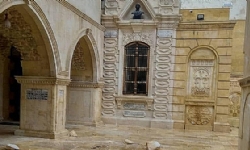 ​Two Armenian churches in Syria damaged in powerful quake
The Forty Martyrs Armenian Cathedral in Aleppo was slightly damaged in a powerful earthquake that hit northwest Syria early on Monday, Hayern Aysor said.

The Holy Mother of God Church in Kesab also suffered minor damage in the wake of the earthquake, the Kantsasar weekly reported.

At least 670 people have been reported dead in Turkey and Syria after Monday's huge 7.8 magnitude earthquake, according to CNN.

In Syria, at least 386 people have died, including 239 mostly in the regions of Aleppo, Hama, Latakia and Tartus, Syrian state TV reported.

Two ethnic Armenians have been identified among the quake victims in Aleppo.


Bu haber panorama kaynağından gelmektedir.
Haber metninde yer alan görüşler haber kaynağı (panorama) ve yazarına ait olup,
bolsohays.com sitesi haber hakkında herhangi bir görüş üstlenmemektedir.

Opinions expressed are those of the author(s)-(panorama). They do not purport to reflect the opinions or views of bolsohays.com