​Garo Paylan: Armenian rescue teams arrived in Turkey -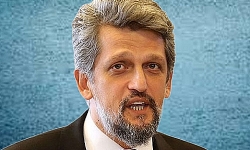 ​Garo Paylan: Armenian rescue teams arrived in Turkey
Armenia's search and rescue teams arrived in Turkey late on Tuesday to help the response to Monday's devastating earthquake, Istanbul-Armenian MP Garo Paylan said.

Armenia has also sent humanitarian aid to Turkey.

"Solidarity keeps us alive!" Paylan wrote on Facebook.

Prime Minister Nikol Pashinyan discussed the assistance with Turkish President Recep Tayyip Erdogan in a phone call earlier on Tuesday. He offered condolences to the Turkish leader and people.

"Nikol Pashinyan wished a speedy recovery to all the injured and added that the plane carrying the rescue squad of the Republic of Armenia to the disaster zone is preparing to take off from Yerevan's Zvartnots Airport," the government said in its readout of the call.

The Turkish authorities updated the country's death toll to 6,234 on Wednesday as rescuers warned that the number would keep on rising.


Bu haber panorama kaynağından gelmektedir.
Haber metninde yer alan görüşler haber kaynağı (panorama) ve yazarına ait olup,
bolsohays.com sitesi haber hakkında herhangi bir görüş üstlenmemektedir.

Opinions expressed are those of the author(s)-(panorama). They do not purport to reflect the opinions or views of bolsohays.com