Armenia humanitarian aid sent to Turkey crosses both countries' border on Margara bridge -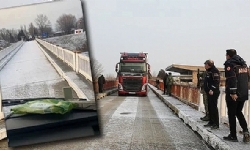 Armenia humanitarian aid sent to Turkey crosses both countries' border on Margara bridge
Humanitarian aid from Armenia has crossed the Margara bridge, on the Armenia-Turkey border, and is heading to the earthquake-stricken region.

Vahan Kostanyan, the newly appointed Deputy Minister of Foreign Affairs of Armenia, wrote about this on Twitter and posted a respective video.

In the aforesaid capacity, Kostanyan will be engaged in Armenian-Turkish relations.

The closed Armenia-Turkey land border was crossed by a truck via the Margara bridge for the last time in 1993.

To note, the Armenian government has sent rescuers as well to quake-ravaged Turkey and Syria.


Bu haber news.am kaynağından gelmektedir.
Haber metninde yer alan görüşler haber kaynağı (news.am) ve yazarına ait olup,
bolsohays.com sitesi haber hakkında herhangi bir görüş üstlenmemektedir.

Opinions expressed are those of the author(s)-(news.am). They do not purport to reflect the opinions or views of bolsohays.com