​Kim Kardashian working on a `dream project` with Japanese architect Tadao Ando -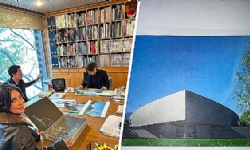 ​Kim Kardashian working on a `dream project` with Japanese architect Tadao Ando
Kim Kardashian has been working on a 'dream project' in collaboration with Japanese architect Tadao Ando for the past two years, according to her latest Instagram post.

'Met with the master himself, Tadao Ando to review and discuss a dream project we have been working on for the past two years,' captioned the reality TV star, 42.

Tadao, 81, is considered the most famous architect in Japan and recognized worldwide for his 'minimalist concrete buildings.'

Kim flew to Japan to look over designs with Tadao for an impressive structure that will be built in Palm Springs, California.

She continued: 'I visited his office in Japan so that we could make the finishing touches before we break ground.'

Along with pictures from the visit, Kim included a digital mockup of a massive concrete fortress with a roof shaped like the bow of a ship.

The front of the building runs linearly while the entry is recessed and obscured by a tall pillar providing support for the protruding roof.

The SKIMS founder closed out the post by expressing gratitude to Tadao as well as her excitement over building the latest addition to her real estate portfolio.

'So deeply honored and incredibly humbled to have the opportunity to work with him and finally see this special project come to life.'

Tadao is entirely self-taught and his style is classified as 'critical regionalism,' which relies heavily on local topography in order to counter the principles of modernist and post-modernist architecture.


Bu haber panorama kaynağından gelmektedir.
Haber metninde yer alan görüşler haber kaynağı (panorama) ve yazarına ait olup,
bolsohays.com sitesi haber hakkında herhangi bir görüş üstlenmemektedir.

Opinions expressed are those of the author(s)-(panorama). They do not purport to reflect the opinions or views of bolsohays.com