Armenian Genocide monument to be erected in France's Courbevoie commune -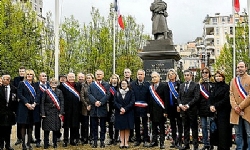 Armenian Genocide monument to be erected in France's Courbevoie commune
Theme: PoliticsThe Embassy of Armenia in France participated in a commemorative event in the commune of Courbevoie, near Paris, dedicated to the 108th anniversary of the Armenian Genocide. The event was organized by the Courbevoie commune council, Armenian News-NEWS.am learns from the Facebook page of the embassy.

At the event, Courbevoie mayor Jacques Kossowski announced the initiative by him and the Courbevoie council to erect an Armenian Genocide monument in Courbevoie next year.

In their commemorative remarks at the event, the high-ranking representatives of France and the leaders of the local authorities expressed solidarity and support for Armenia and Artsakh (Nagorno-Karabakh), which are facing difficult geopolitical challenges, and in particular, for the Artsakh Armenian, who are facing the Azerbaijani blockade of the Lachin corridor for more than four months now.


Bu haber news.am kaynağından gelmektedir.
Haber metninde yer alan görüşler haber kaynağı (news.am) ve yazarına ait olup,
bolsohays.com sitesi haber hakkında herhangi bir görüş üstlenmemektedir.

Opinions expressed are those of the author(s)-(news.am). They do not purport to reflect the opinions or views of bolsohays.com