​Kamala Harris posts tribute to Armenian Genocide victims -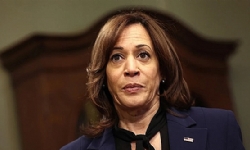 ​Kamala Harris posts tribute to Armenian Genocide victims
U.S. Vice President Kamala Harris paid tribute to the Armenian Genocide victims on the 108th anniversary of the Ottoman-era massacre commemorated on April 24.

"Today, we honor the 1.5 million lives lost during the Armenian genocide," she said in a tweet.

"As we reflect on that painful moment in history, let us renew the pledge to never forget, and let us rededicate ourselves to speaking out against hate in all its forms," Harris wrote.

In an annual statement on Armenian Remembrance Day, U.S. President Joe Biden renewed the pledge to never forget the Armenian Genocide.


Bu haber panorama.am kaynağından gelmektedir.
Haber metninde yer alan görüşler haber kaynağı (panorama.am) ve yazarına ait olup,
bolsohays.com sitesi haber hakkında herhangi bir görüş üstlenmemektedir.

Opinions expressed are those of the author(s)-(panorama.am). They do not purport to reflect the opinions or views of bolsohays.com