​Armenia and Azerbaijan may sign peace deal next week, envoy says -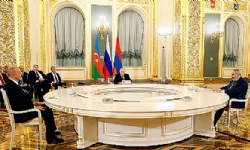 ​Armenia and Azerbaijan may sign peace deal next week, envoy says
Azerbaijan and Armenia could sign a peace settlement in their decades-old conflict over the territory of Nagorno-Karabakh when their leaders meet at a European summit next week, Reuters reported on Friday, citing Baku's envoy to France.

Up to 47 heads of state, government and EU institutions are expected to attend the summit of the European Political Community (EPC) in Moldova next Thursday, which brings together EU member states and 17 other European countries.

On the sidelines, Armenian Prime Minister Nikol Pashinyan and Azeri President Ilham Aliyev are due to hold high-level talks with French President Emmanuel Macron and German Chancellor Olaf Scholz, diplomatic sources said.

"On June 1 in Chisinau we hope that finally a peace treaty can be signed," Leyla Abdoullayeva told a small group of reporters in Paris.

"It's a historic moment and a momentum that can't be missed," she said.

The two leaders met on Thursday in Russia, traditionally the main power broker between the two countries on the southwest edge of the former Soviet Union which have fought two major wars in the last three decades.

But there was no accord at the meeting beyond agreeing to new trilateral talks between officials from the three countries next week.

Earlier in May, Pashinyan confirmed that there was a specific document on the table in Washington where the Armenian and Azerbaijani foreign minister held marathon talks.

Speaking in the parliament, he refused to go into details, arguing that "any positive or negative interpretation will affect the negotiations."

"I said, remember, it is I who will be signing the document around which you are negotiating. So, negotiate freely, within the framework of our political course and our publicly expressed opinions," Pashinyan said.


Bu haber panorama kaynağından gelmektedir.
Haber metninde yer alan görüşler haber kaynağı (panorama) ve yazarına ait olup,
bolsohays.com sitesi haber hakkında herhangi bir görüş üstlenmemektedir.

Opinions expressed are those of the author(s)-(panorama). They do not purport to reflect the opinions or views of bolsohays.com