Zakharova on Lachin corridor incident: Accusations against Russian peacekeepers are absolutely groun -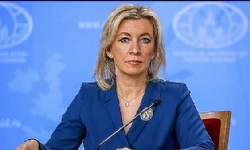 Zakharova on Lachin corridor incident: Accusations against Russian peacekeepers are absolutely groundless
The accusations against the Russian peacekeepers are absolutely groundless. Maria Zakharova, the official representative of the Russian foreign ministry, said this during Wednesday's ministry press briefing, answering the question about summoning Russian Ambassador Sergey Kopyrkin to Armenia's foreign ministry in connection with the shots fired in the Lachin corridor.

"The incident that took place on June 15 by Armenia in the area you mentioned [i.e. the Lachin corridor] is related to the general problem of the lack of a delimited Armenian-Azerbaijani border. The Russian side has repeatedly called to start, with our consulting help, the effective and thorough work of the bilateral commission on the delimitation of the Armenian-Azerbaijani border," Zakharova noted.

According to her, Russia is ready to define the border line between Armenia and Azerbaijan.

"We are ready to help in determining the border line; also in that area which has become a bone of contention between the parties. The accusations directed at the Russian peacekeepers are absolutely groundless. We strongly recommend toning down the degree of media rhetoric in this regard. The [Russian] peacekeepers are working closely with the parties to resolve the situation. They clearly fulfill the task of stabilizing the situation and maintaining the ceasefire and military operations in their zone of responsibility," the Russian foreign ministry spokesperson concluded.


Bu haber news.am kaynağından gelmektedir.
Haber metninde yer alan görüşler haber kaynağı (news.am) ve yazarına ait olup,
bolsohays.com sitesi haber hakkında herhangi bir görüş üstlenmemektedir.

Opinions expressed are those of the author(s)-(news.am). They do not purport to reflect the opinions or views of bolsohays.com