​Azerbaijani authorities convert Armenian church into mosque in Nagorno Karabakh -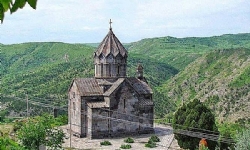 ​Azerbaijani authorities convert Armenian church into mosque in Nagorno Karabakh
The Azerbaijani government is turning an Armenian church into a mosque in the territories under its control in Nagorno Karabakh.

A government agency in Nagorno Karabakh posted images online showing the St. Hambardzum Church of Berdzor (Lachin) in Nagorno Karabakh being converted into a mosque.

"Azerbaijan is turning the St. Hambardzum Church of Berdzor into a mosque. Appropriation of history, destruction of cultural identity, religious intolerance and falsification," the State Service of Preservation of Historic Environment of Nagorno Karabakh said in a statement.


Bu haber armenpress kaynağından gelmektedir.
Haber metninde yer alan görüşler haber kaynağı (armenpress) ve yazarına ait olup,
bolsohays.com sitesi haber hakkında herhangi bir görüş üstlenmemektedir.

Opinions expressed are those of the author(s)-(armenpress). They do not purport to reflect the opinions or views of bolsohays.com