​Armenian man detained for taking part in 1991 Khojaly massacre -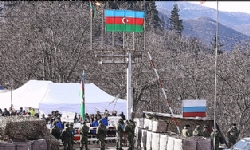 ​Armenian man detained for taking part in 1991 Khojaly massacre
Vagif Cherkezovich Khachaturyan, 68, captured at Lachin border checkpoint while trying to enter Armenia from Azerbaijan, say officials

An Armenian-born man has been detained for taking part in Armenian forces' 1991 Khojaly massacre of Azerbaijani civilians, Azerbaijani officials said on Saturday.

Vagif Cherkezovich Khachaturyan, 68, who is on an international wanted list for taking part in the massacre of Azerbaijani civilians in the early 1990s First Karabakh War, was detained by Azerbaijani border guards at the Lachin border checkpoint, the Azerbaijani Prosecutor General's Office said in a statement.

He was attempting to cross into Armenia saying he needed medical treatment, the statement noted.

There was an arrest warrant in absentia for Khachaturyan in 2013 for "genocide" and "forced displacement of people," it added.

The Karabakh region has been the site of mass killings and burials since the First Karabakh War in the early 1990s, most notably the Khojaly massacre by Armenian forces.

A two-hour Armenian offensive on the town of Khojaly killed 613 Azerbaijani citizens – including 106 women, 63 children, and 70 elderly people – and seriously injured 487 others, according to Azerbaijani figures.

Some 150 of the 1,275 Azerbaijanis that the Armenians captured during the massacre remain missing, while eight families were completely wiped out.

Relations between the two former Soviet republics have been tense since 1991, when the Armenian military occupied Nagorno-Karabakh – now known as Karabakh – a territory internationally recognized as part of Azerbaijan, and seven adjacent regions, including Agdam.

In the fall of 2020 in 44 days of fighting, Azerbaijan liberated several cities, villages and settlements in Karabakh from some 30 years of Armenian occupation.


Bu haber a.a. kaynağından gelmektedir.
Haber metninde yer alan görüşler haber kaynağı (a.a.) ve yazarına ait olup,
bolsohays.com sitesi haber hakkında herhangi bir görüş üstlenmemektedir.

Opinions expressed are those of the author(s)-(a.a.). They do not purport to reflect the opinions or views of bolsohays.com