​Two Armenian chess players compete at World Junior Rapid & Blitz Championship -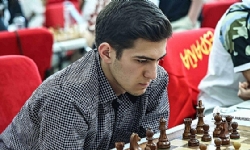 ​Two Armenian chess players compete at World Junior Rapid & Blitz Championship
The World Junior U20 Rapid & Blitz Chess Championship 2023 is being held in Italy from October 10 to 15.

Mamikon Gharibyan and Robert Piliposyan are participating from Armenia, the Armenian Chess Federation reported.

The rapid chess championship is held from October 10 to 12 in 11 rounds.

The blitz chess championship is played from October 14 to 15 in 11 rounds.


Bu haber panorama kaynağından gelmektedir.
Haber metninde yer alan görüşler haber kaynağı (panorama) ve yazarına ait olup,
bolsohays.com sitesi haber hakkında herhangi bir görüş üstlenmemektedir.

Opinions expressed are those of the author(s)-(panorama). They do not purport to reflect the opinions or views of bolsohays.com